The Diabetes Association of Atlanta offers both diabetes prevention and management education in the community. The education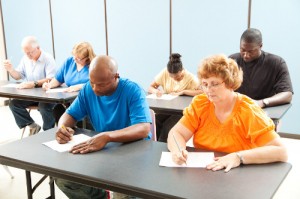 program is designed to promote behavior change and risk reduction in high-risk youth as well as high-risk adult population. For those wanting to prevent diabetes, it is important to understand one's risk factors for developing the disease, as well as what lifestyle changes can be made to prevent or delay the onset of type 2 diabetes. For those living with diabetes, diabetes self-management education (DSME) has been proven to reduce A1c levels over time and promote positive lifestyle behaviors.
Decreased A1c levels have been proven to reduce one's risk of complications from diabetes, as seen in studies like the United Kingdom Prospective Diabetes Study (UKPDS) for those living with type 2 diabetes, and the Diabetes Control and Complications Trial (DCCT) for those living with type 1 diabetes. Our DSME program provides current information on how to manage diabetes in order to live a long, healthy life and prevent complications of diabetes.
Diabetes Prevention Education Classes
The Diabetes Association of Atlanta offers a variety of diabetes prevention education classes in the community. These classes include but are not limited to: multi-week seminars at senior centers and schools, lunch and learn seminars for businesses, guest speaker presentations in high school health and nutrition classes, presentations and multi-week seminars within communities of faith, and staff training on diabetes nutrition and key management concepts.
If you would like a guest speaker at your facility, please Click here to request a diabetes workshop or call the diabetes education coordinator at 404-527-7150 Ext 114 with any questions.
Diabetes Self-Management Education Classes
For those living with diabetes, our Diabetes Education Program offers evidence-based self-management education classes that are nationally recognized by the American Diabetes Association. The classes are taught by qualified staff including certified diabetes educators (CDE), registered nurses, and registered dietitians. The staff is charged with empowering people who have diabetes with the knowledge and skills they need to control their diabetes on a daily basis. The classes cover aspects of the AADE 7 Self-Care Behaviors: healthy eating, being active, monitoring, taking medication, problem solving, healthy coping, and reducing risks. DAA's diabetes self-management education program consists of five total classes and three follow-up calls with a registered dietitian.  Clients can also bring a family member or support person with them to class for free!
Locations: 100% Online/Virtual
Cost: DAA is currently offering our Diabetes Self-Management Education classes at no cost.
How to Register: To register for our diabetes self-management education classes, click here. You may also call us at 404-527-7150 ext 114 or email diabetes@diabetesatlanta.org.