Join us for DAA's Word of Wellness (W.O.W.) Wednesday program. This free virtual class occurs the 4th Wednesday of each month at noon. Topics will vary around nutrition, diabetes prevention & management, exercise, stress management, and more. W.O.W Wednesday is open to everyone by registering below.
Topics:
September – Making Positive Choices in the Midst of Change with Gloria Elder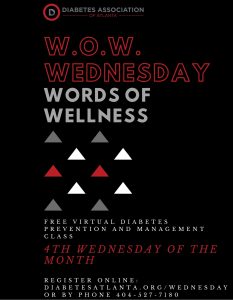 Once you complete the registration form, you are registered for the class. Next, DAA will send you a separate email and calendar invite with the webinar details.